Blog:Is Your Water Damaging Your Hair?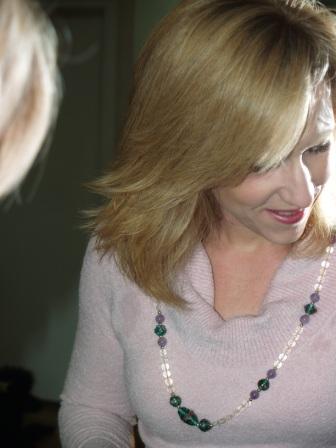 Is Your Water Damaging Your Hair?
Recently Brad Mondo put out a video concerning this topic. Which begs the question WHY!
The reason is actually very simple, Brad Mondo needs to create drama in order to entertain. Which is the point of his channel, To entertain.
That's About it.
Even so "Is Your water Damaging Your Hair? " As a salon owner for 35 plus years I would have to say it's Not likely. Unless you are one of the unfortunate ones who's tap water can catch fire.
But can make your hair feel dry, or damaged by way of coating. Think of the spots your glass wear gets from the dish washer (via hard water). Remove the minerals coating your glass wear and you have instant improvement. The same is true of hair. This is why I pretreat almost every client (regardless of the reason for their appointment) with a clarifying shampoo for a minute or two. And in the case of a strong coating 5 minutes. And then use my preferred product.
Who's hair needs to be periodically Clarified?
My experience is that most hair types do, and especially prior to any chemical service. Think of the way highlights (and blonde hair in general) progressively become dull and lack shine. A good clarifier can even make blonde hair color brighter and lighter.
Are Clarifiers (demineralisers) something new?
No.
Clarifiers have existed for decades, however the kind of damage hard water does is typically that it prevents or interferes with chemical processing. I.E. Coloring, Bleaching, Perming.
All of which can be easily addressed by using a clairifer at direction of your hair dresser. To much is drying to hair.
The goal; To remove unwanted substances that can negatively effect coloring and highlighting services such as hard water minerals, chlorine and other chemicals from the pool, hairsprays, mousses and waxes.
Not to mention the copper coming from my hot water heater. (which is especially hard on red hair color.)
Can Clarifying treatments (demineralisers) remove unwanted hair color?
To remove color including off tones or fashion colors (Blue that has faded to blue green..)
requires an appropriate ph in the active product. Clarifiers do not have the necessary make up to do so.
In fact the only way they make blonde colors brighter and even lighter is that they are removing the mineral coating that makes them dull. Beyond that.. Not so much.
Do you have questions concerning your hair? Hair products, or anything hair related?
Submit them on the 'Kinney Systems Hair Design' page on twitter (link below) and we will get right on it.
Kinney Systems Hair Design offers all your favorites in our salon (address above).
If you would like it delivered directly to your door we can do that as well.
(via our affiliate relationships)
Would you like to jumpstart your hair quality? Below are a my personal favorites for immediate results.
This system is one of my personal favorites. I use or have my assistants use both these products on any head of hair that has had a bit too much fun. You will realize imediate results that will stregthen you hair while keeping it soft and shiny.
To shop additional products we use and recommend, please visit out page
Products used and recommended. Kinney Systems Hair Design is a participant in the Amazon Services LLC Associates Program, and affiliate advertising program designed to provide a means for sites to earn advertising fees by advertising and linking